The tall and sturdy one person sleeping platform you've been looking for! The Tall Basic Bunk is perfect for using in your camper van, truck or SUV to ensure a good night's sleep and features ample storage space underneath. With all of the strength of our Tall Trunk Bunk without the expanding function, the Tall Basic Bunk is a more affordable and utilitarian option for any solo traveler. It's perfect for weekend getaways, long road trips or any kind of adventure where you want to sleep in your vehicle.
With its simple and robust design, the Tall Basic Bunk is extremely easy to assemble! All you need is an electric screwdriver and soon you'll have your very own elevated sleeping platform ready for all kinds of journeys. Instructions will be provided to help ensure a smooth assembly process, but our team is also on standby to help if you need us.
This quality product is made in Washington State using sustainable business practices. We stand by our work and are here to ensure your satisfaction with our products. Not sure if the Tall Basic Bunk is right for you? Check out the additional information below or contact us today.
The Tall Basic Bunk Guide
Unsure if the Tall Basic Bunk is right for your vehicle? Need some help figuring out sizing, dimensions or other fitting considerations? We're here to help!
Dimensions
The Tall Basic Bunk comes in three different lengths to choose from, 5′ feet long, 5.5′ long and 6′ long. These length options ensure it can fit into a wide variety of vehicles. It is 23″ wide, which makes it ideal for all kinds of one person camping mattresses. The Tall Basic Bunk does best on flat level surfaces. As long as your vehicle has a nice level surface that measures 5′, 5.5′ or 6′ long then the Tall Basic Bunk will work fantastically for your adventure needs.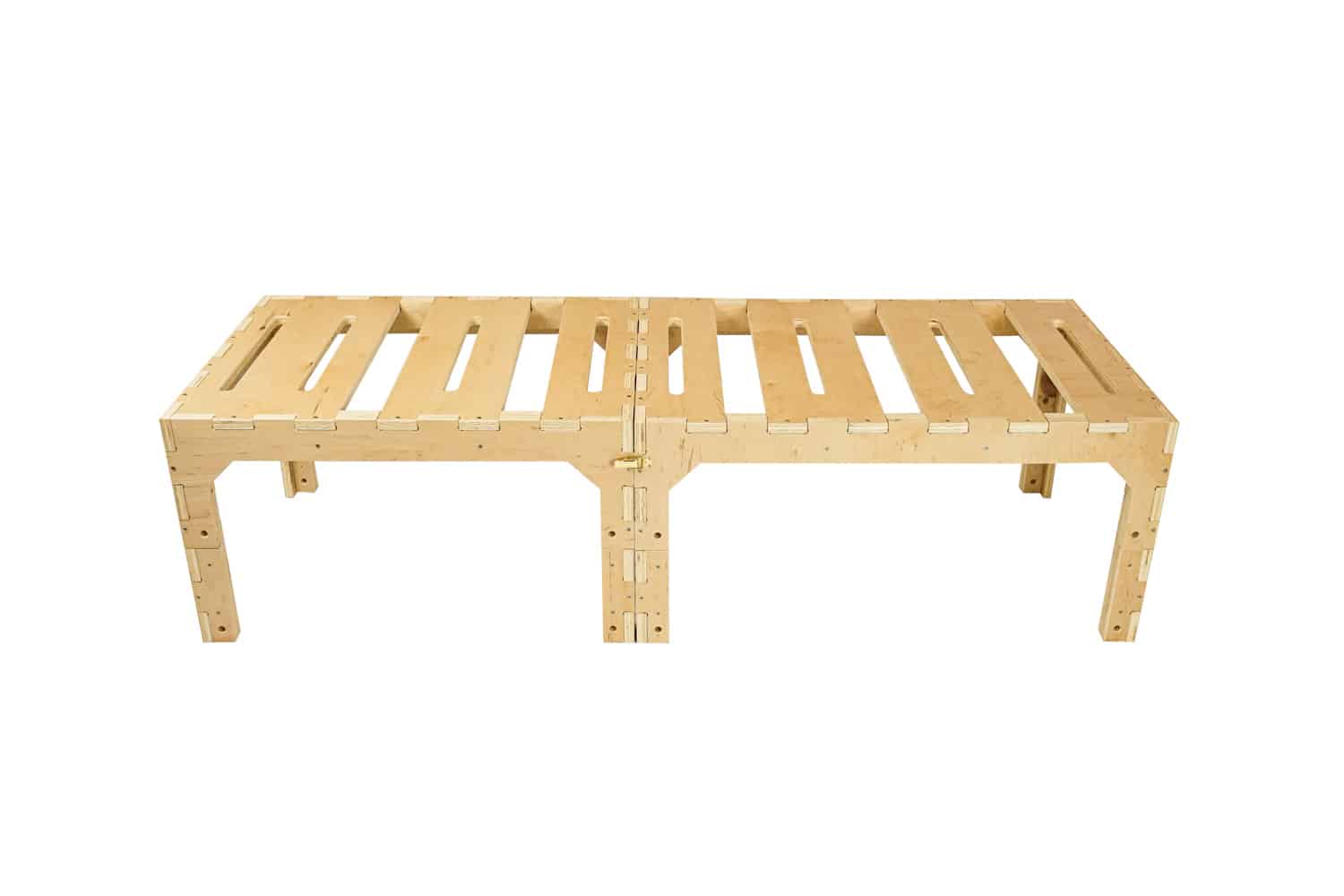 Clearance
With about 14 inches of clearance under the bed, the Tall Basic Bunk offers double the storage space underneath the platform of the original Basic Bunk. This means more space for all of your important pieces of gear! Furthermore the Tall Basic Bunk sits high enough to clear many wheel wells and other obstacles that are often in your vehicles interior. With all this extra space you know the Tall Basic Bunk has your back for some epic extended adventures!
Storage
Deploying, moving and storing the Tall Basic Bunk is extremely easy. Because it comes apart in two different sections (either 2.5′ or 3′ long) it can be stowed away in the back of your vehicle or elsewhere without taking up tons of space. This makes it a great option for those who don't want to make permanent alterations to their vehicle or may need their full seat capacity at times. You can even transfer it to use in future vehicles when it's time to upgrade!
Frequently Asked Questions
What are the main benefits of using the Tall Basic Bunk for travel?
Being able to sleep comfortably in your vehicle opens up all kinds of travel flexibility and cost saving options, that's what Camp N Car is all about. Having a firm and comfortable surface to put your favorite mattress in your car makes it much more appealing than sleeping in your seats. We believe that once you get a taste of the travel flexibility the Tall Basic Bunk offers that you'll never go back to spending money on hotels or Airbnb's again.
With the Tall Basic Bunk, anywhere you can park for the night becomes your new home all without ever having to leave your vehicle or pitch a tent! The Tall Basic Bunk represents a streamlined take on vanlife camping but without having to make permanent alterations to your vehicle or spend untold amounts of money on a new van and a full conversion job. Once you get out there and discover this style of travel and camping for yourself we're confident you'll understand!
How much does the Tall Basic Bunk weigh?
Considering how sturdy and well engineered a product the Tall Basic Bunk is, it's surprisingly light! The 5.5′ foot Tall Basic Bunk only weighs 32 pounds. Each section of the Tall Basic Bunk is either 16 or 17.5 pounds on its own, depending on the length. This makes the 6′ Tall Basic Bunk 35 pounds and the 5′ Tall Basic Bunk 32pounds.
(all weights are approximate and may vary slightly)
What is the weight capacity of the Tall Basic Bunk?
To be honest, we haven't been able to establish a maximum weight capacity because we haven't been able to break it in our torture testing. The Tall Basic Bunk is strong and can support a couple hundred pounds with ease. We have had multiple people standing on it, put lots of weight on it, and haven't been able to break it. So long as you're not using the Basic Bunk for industrial hauling purposes and stick to using it for your gear and one camper, you'll be fine.
Is the Tall Basic Bunk easily removed and reinstalled?
Yes! All of our products are designed to be easily removed and reinstalled by the users so that you don't have to commit your vehicle to a permanent alteration. The Tall Basic Bunk in particular is very easy to remove from your car and doesn't take a ton of space to stow away. In fact, it can fit in the rear compartment space of most vehicles when not being used so you can regain use of your rear seats when you're not camping out. Want to learn more about the Tall Basic Bunk?
Contact us!
Is the Tall Basic Bunk easy to assemble on my own? What do I need?
Yes! The Tall Basic Bunk is both easy and fun to assemble. We provide extremely thorough and easy to follow directions to make putting the Tall Basic Bunk together a breeze. All you need is an electric screwdriver and a sense of adventure and you'll have your unit assembled in no time. Our team is also here to help you along the way if you encounter any issues or difficulties in the assembly process. Your honesty and feedback is important to us and is a key tool in helping us improve our designs and instructions over time!
Can you assemble the Tall Basic Bunk for me?
Yes! We are pleased to offer in house assembly for those who can come to our shop in Port Townsend Washington to pick it up once it's complete. The cost of pre-assembling a Tall Basic Bunk for pickup is $150 and is an option available at the top of the product page.
Due to the extremely high price and logistical difficulties of shipping a fully assembled Tall Basic Bunk, this is not a service we can offer at this time.
Have you ever lived or traveled extensively out of a vehicle?
The entire inspiration for Camp N Car comes from the shared experiences of the companies founders. Our managing director Steve Moore lived out of a special Honda Element camper in Alaska for 6 months which was designed by our Technical Director Martin Nerbovig. Through this experience he gained a deep insight into living a fulfilling and minimalist lifestyle on the road. After awhile friends started asking about getting builds of a similar nature done for their vehicles and here we are today! We are happy to share our experiences and skills with the world so that others may share in the same kind of joy that this travel brings. To hear more awesome vanlife stories
join our mailing list today!
Why does the Tall Basic Bunk cost this much?
Everything we make is designed with a great deal of thorough engineering and care using advanced software and expensive machinery. From there we pick top quality and sustainable materials and hand craft everything here in Washington State to an extremely high standard. Additionally, our employees are highly skilled craftspeople who are paid living wages and are treated like our family.
The reality of doing all of this means we can't offer goods that are as cheap as stuff you can buy from overseas manufactures. We are determined to continue being a company that manufactures solely in the United States and supports our local economy. Once you make your purchase you will see the quality and customer care make it all worthwhile!
​
Can you ship out of the United States? How about Alaska or Hawaii?
Yes we do, but you will need to 
contact us
 to make a special shipping arrangement. We offer free shipping to all customers in the contiguous United States but for anyone outside the US or in Alaska/Hawaii we will need to generate a custom shipping quote and charge accordingly.
Final Considerations
To determine is the Tall Basic Bunk is right for your vehicle you may need to bust out the tape measure and ensure that there is a minimum viable flat surface no shorter than 5, 5.5 or 6 feet long and at least 23 inches wide. If you have that, then you can make it work! Currently the maximum length of the Tall Basic Bunk we can offer is 6 feet. We realize this makes it non-ideal for anyone who is especially tall, but there are a lot of creative solutions for ways you can rest your feet off the edge of the bed platform if it comes down to it. Feel free to contact us if you have questions on how to make the Tall Basic Bunk work best for you.
The Tall Basic Bunk is plenty big enough to hold Thermarest-style inflatable camping pads, narrow mattresses or other smaller sleeping cushions. It is not wide enough to hold "full" or "double" sized mattresses. Think of the Tall Basic Bunk as being about the same surface area as your average bivy sack or small 1 person backpacking tent and that should give you a good idea of what you are working with.